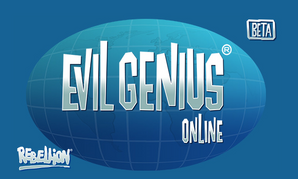 Welcome to the Evil Genius® Online Wiki
This is to document the Facebook game Evil Genius Online, and the various resources you need to build and upgrade things in it. If you are playing this game, feel free to edit and fix anything missed in this wiki.
Update: Evil Genius Online applications and Facebook access are closing February 6th, as the company is shutting down the game. Details on the blog here.
Content
— Base Expansion — Minions — Missions —
---
Images © Rebellion Developments Ltd.
The Evil Genius Online Wiki hosted on Wikia is an unofficial fansite written and edited by players.
---
Ad blocker interference detected!
Wikia is a free-to-use site that makes money from advertising. We have a modified experience for viewers using ad blockers

Wikia is not accessible if you've made further modifications. Remove the custom ad blocker rule(s) and the page will load as expected.